Background:  The Tipping Point
Chinese philanthropy is at a tipping point.  Looking from surface, 3 stark gaps stand in the Chinese philanthropy landscape.  
International gap in giving scale: Despite the economic growth, China's charitable giving is lagging behind that of United States, and even its Asian neighbor Singapore, where Chinese are the dominant population. 
Domestic gap between pace of wealth growth and giving growth: in 2012, China GDP experienced a 7.7% growth, and the number of billionaires increased to 147 from 115 in the previous year, a 28% growth. However, the charitable donation dropped by 3.31%, according to China Charity Donation Information Center. 
Gap between traditional charity and new philanthropy: Current giving patterns largely reflect China's long history as an agriculture-based authoritative society, as shown in the large amount of reactive giving in disaster relief, concentrated giving in meeting immediate needs, limited giving channels and unfavorable legal environment. These practices no longer fit the current development in China, evidenced in the contrast between increased enthusiasm in philanthropy and decrease confidence in public charity.
On one hand, these gaps reflect the nascent stage of philanthropy in China; on the other hand, they represent great potential in philanthropic development.  Meanwhile, the awareness of the gaps seems to have provided momentum for Chinese philanthropy to explore a new path to close the gaps, especially through looking beyond the China horizon.  In the last two years, almost all major media in China have dedicated a section on charity, where articles proliferate on how other countries, the United States in particular, are doing in philanthropy; internationally collaborated educational programs on philanthropy and exchange visits have also boomed.  
Most encouragingly, Chinese business leaders have started taking actions to shape the new philanthropy by starting their own foundation, increasing their giving, asking hard questions, tackling large issues, and voicing in public. It's our strong belief that Chinese philanthropy is reaching a tipping point. 
why women?  
It's simply because women in China represent a large pool of untapped potential to give and to influence.
Although China falls behind the developed countries in many social parameters, the status of women stands as an exception. China ranked 34 out of 135 countries for labor participation in 2011 Global Gender Gap Index. International accounting firm Grant Thornton reported in 2013 that half of senior management jobs in China are held by women, far above a global average of 24%. Women in China have a higher influence power, both at home and workplace, than many of those in peer countries.
Women entrepreneurs are a unique segment in China, in both giving capacity and influencing potential. 20% of China's entrepreneurs are women, and 85% of women's ventures are making profits. Five of the top 15 self-made women billionaires from Forbes rich list in 2013 are from China.  55.8% of women entrepreneurs have higher education, 2.5 percentage point higher than their male counterparts.  Although lacking statistics, from the media report, we see many women entrepreneurs are very active in corporate giving and their own charitable giving.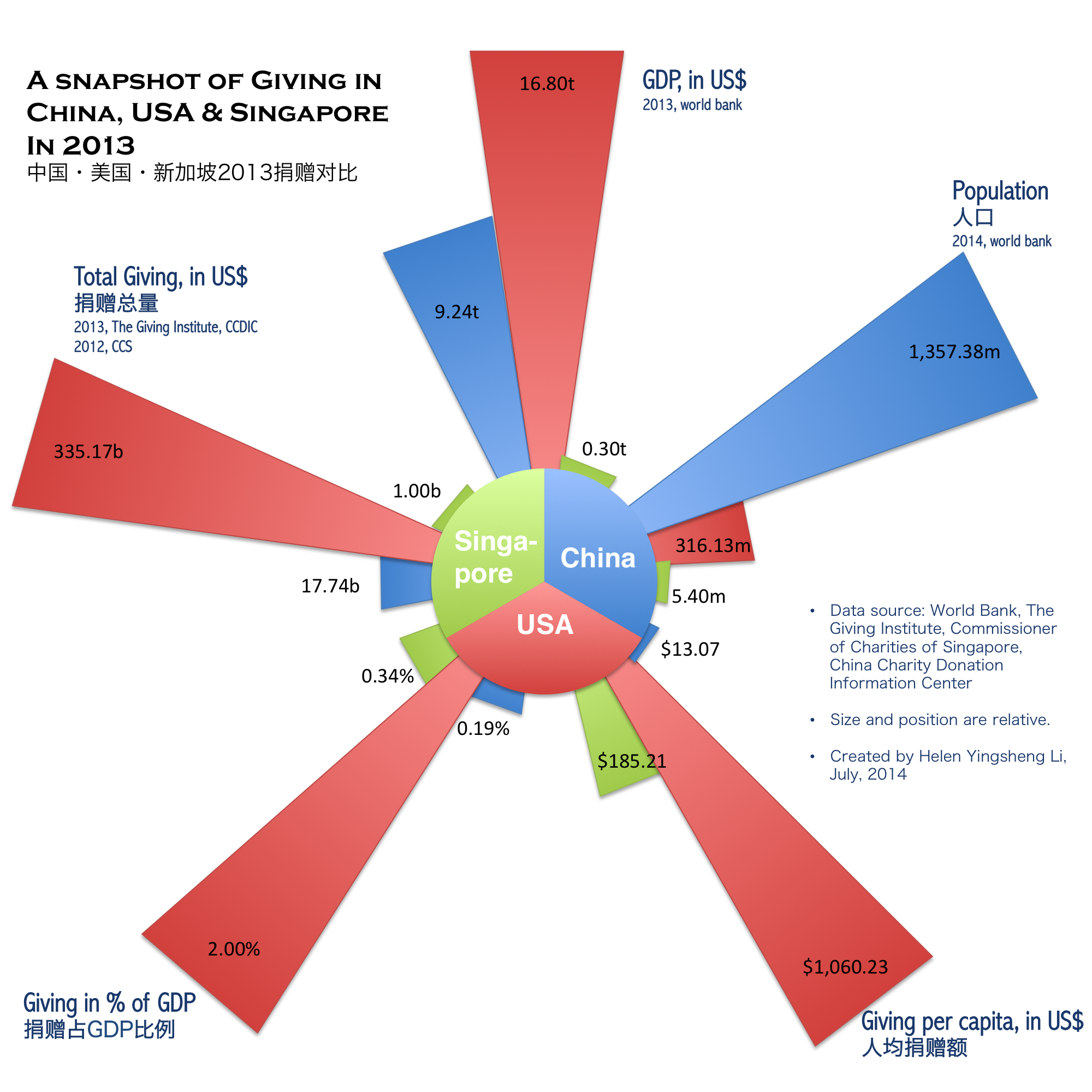 Case in Point
Pan Shiyi and Zhang Xin, the real estate billionaire couple from Beijing, has recently announced a commitment of 100 million dollars to support less privileged Chinese youth to study in world-class overseas universities. They signed a 15-million-dollar donation contract with Harvard University on July 15, 2014.
Earlier this year, Jack Ma, founder of Alibaba, announced the establishment of China's largest charity fund with an estimated asset of 2 billion dollars, dedicated to environmental issues in China.
In both cases, they cite positive influences from exposure to global philanthropy and role models from American prominent philanthropists. Zhang Xin sits on the board of Teach for China, an NGO modeled after Teach for America, and Jack Ma took the role as the Chairman of the Board for The Nature Conservancy's China Program in May 2014.